Resveratrol
Cellular energy Booster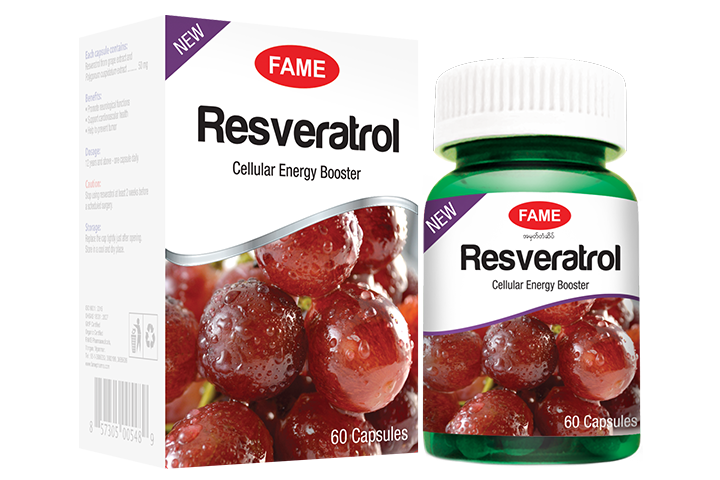 Product Description
Supplement Facts
Directions To Use
Pharmacological actions:
♦ Reduce neurodegenerative diseases: Resveratol stimulates the cellular proteins called sirtuins which is a powerful antioxidant that can prevent cell damage lead to aging and brain degeneration.
It significantly reduces formation of brain plaque, a component of Alzheimer's and other neurodegenerative diseases.
♦ Support cardiovascular health: Resveratrol promotes cardioprotection effects by inhibiting the LDL oxidation, vascular smooth muscle cell proliferation, platelet aggregation, the production of proarthrogenic eicosanoids, stimulation of endothelial nitric oxide synthase (eNOS) activity.
♦ Help to prevent tumor: Resveratrol reduces cellular events associated with tumor initiation, promotion and progression. It has been found to inhibit proliferation and induce apoptosis in a number of cancer cell lines.
Composition:
Each capsule contains
Resveratrol from grape extract…… 50 mg
Benefits:
♦ Promote neurological function
♦ Support cardiovascular health
♦ Help to prevent tumor
Dosage:
12 years and above – one capsule daily
Contraindication:
Children under 12 years, pregnant and lactating mother
Caution:
Stop using resveratrol at least 2 weeks before a scheduled surgery.
Drug interactions:
Resveratrol might interact with anti-coagulant and anti-platelet and so increase the risk for bleeding.
Quantity supplied:
60 capsules per bottle