Tomatec®
Lycopene antioxidant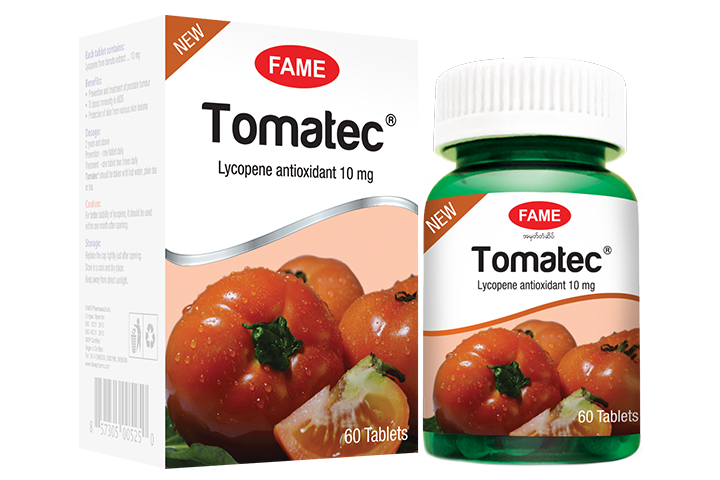 Product Description
Supplement Facts
Directions To Use
Phytochemistry:
Lycopene is one of the major carotenoids in our diet and is found almost exclusively in tomato and tomato products. It accounts for about 50% of carotenoids in human serum. It is high concentration in prostate, testes and adrenal gland. Lycopene has highest singlet oxygen quenching capacity. It is an effective protector against several types of cancer, especially prostate, pancreatic and cervical cancers.
Composition:
Each tablet contains
Standardized Tomato extract powder ………… 500 mg
(containing lycopene 10 mg )
Health benefits and indications:
♦ Prevention and treatment of prostate tumor
♦ To boost immunity in AIDS
♦ Protection of the skin from various skin lesion
Dosage:
2 years and above
Prevention – one tablet once daily
Treatment – one tablet two times daily
It should be taken with hot water, plain tea or tea.
Combination therapy:
Tomatec® can be taken together with other antioxidants such as vitamin C (Nature-C®), vitamin E, beta-carotene and selenium to get maximum benefit. In case of prostate cancer it should be taken together with 5-α reductase inhibitors such as SawPalmetto, or finasteride.
Quantity supplied:
60 tablets per bottle