Nature-C®
Natural Vitamin C supplement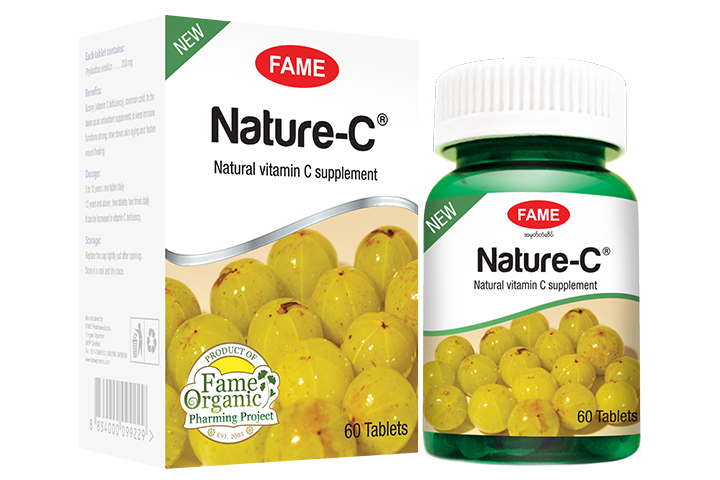 Product Description
Supplement Facts
Directions To Use
Vitamin C deficiency (Scurvy) symptoms include anemia, soft, bleeding gums and bumps under the skin near muscles. FAME Pharmaceuticals has produced the natural vitamin C, Nature-C® as a dietary supplement from Emblica officinalis. Natural vitamin C is combined with tannin, so there is no gastric irritation. In addition, the plasma half-life of vitamin C and tannin complex is two to three times longer than synthetic one. Because of slow renal excretion, there is no sudden pH change and there will be no renal stone formation.
Composition:
Each tablet contains
Emblica officinalis powder ………… 500 mg
(Containing natural vitamin C 17.4 mg equivalent to synthetic ascorbic acid 200 mg in activity)
Indications:
♦ Scurvy (vitamin C deficiency)
♦ Common cold
♦ To be taken as an antioxidant supplement
♦ To keep immune function strong
♦ To slow down skin aging
♦ To faster wound healing
♦ Prevention of cancer and heart diseases
Dosage:
Child – one tablet daily after meal
Adult – two tablets daily after meal
It can be used two tablets two times a day in case of increase requirement for vitamin C.
Storage:
Replace the cap tightly just after opening.
Store in a cool and dry place.
Quantity supplied:
60 tablets per bottle