WoundHealer®
Systemic enhancer for healing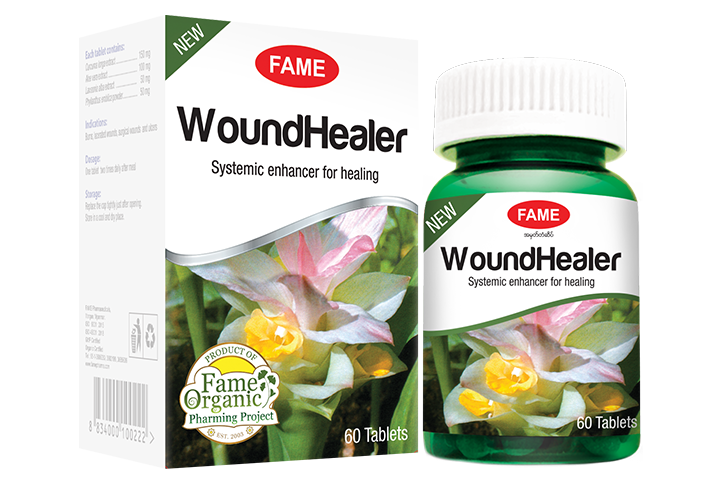 Product Description
Supplement Facts
Directions To Use
Pharmacological actions:
Curcuma longa (Turmeric): Curcumin, the active principle of turmeric, is the most potent natural organic compound for healing. Studies has shown that it inhibits the growth of microorganisms such as Staphylococcus, Streptococcus, Bacillus, Entamoeba histolytica and several pathogenic fungi. Turmeric is also useful in treating eczema, psoriasis, fungal infection such as athlete's foot.
Aloe vera (Aloe): It has anti-bacterial, anti-viral and anti-inflammatory properties. It is remarkably effective in wounds and burns, speeding up the rate of healing and reducing the risk of infection. It enhances skin regeneration.
Lawsonia alba (Henna): The extract has been reported for its anti-microbial activity against Staphylococcus aureus, Streptococcus pyogenes and Proteus species. Thus, it is extensively useful in treating skin inflammation, bruise, wounds of circurcision and leprosy.
Emblica officinalis (Amla): It has the richest source of Superoxide dismutase (SOD) and natural vitamin C. These are known as immunoenhancement for the rapid healing of various infections.
Composition:
Each tablet contains
Curcuma longa extract
Aloe vera extract
Lawsonia alba extract
Emblica officinalis standard powder
…………… 150 mg
…………… 100 mg
…………… 50 mg
…………… 50 mg
Indications:
Oral herbal formulation for the treatment of burns, lacerated wounds, surgical wounds and ulcers.
Dosage:
One tablet two times daily after meal
Side effects:
Mild hypoglycaemic effect
Drug interactions:
It can be used together with antibiotics.
Quantity supplied:
60 tablets per bottle