Vegeplex®
Vegetable complex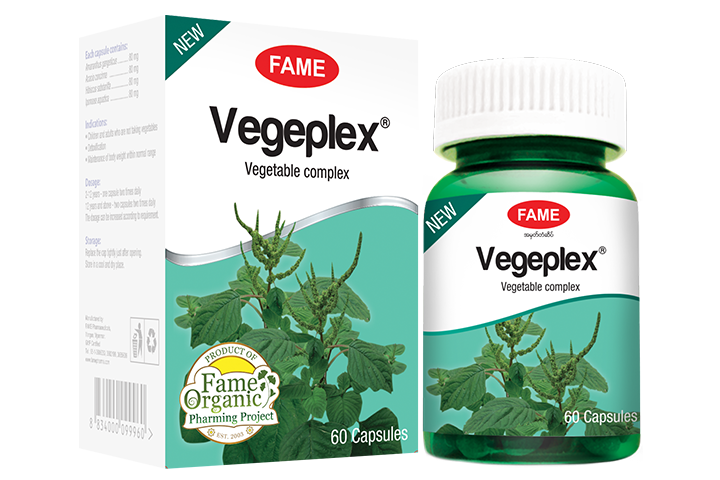 Product Description
Supplement Facts
Directions To Use
Vegetables which are eaten raw can contribute substantially to our needs of vitamins and minerals (micronutrients). Losses of micronutrients can result from prolonged frying, boiling of these vegetables, or the cooking water is thrown away.
Micronutrient deficiencies are damaging the health of one third of the world's population.
Therefore, those who are not taking vegetables and those living in areas where cultivation of vegetables is in difficulty, FAME Pharmaceuticals has scientifically produced standardized powder of nutritional supplement, four essential vegetables in capsule form.
Composition:
Each capsule contains
standardized powder of
Amaranthus gangeticus
Acacia concinna
Hibiscus cannabinus
Ipomoea aquatica
…………… 80 mg
…………… 80 mg
…………… 80 mg
…………… 80 mg
Indications:
♦ Children and adults who are not taking vegetables
♦ Maintenance of body weight within normal
♦ Detoxification, antioxidant and anti-aging
Dosage:
Child and Adult – one to two capsules two times daily
Dosage can be increased according to requirement.
Quantity supplied:
60 capsules per bottle