Uritec®
For urinary tract infection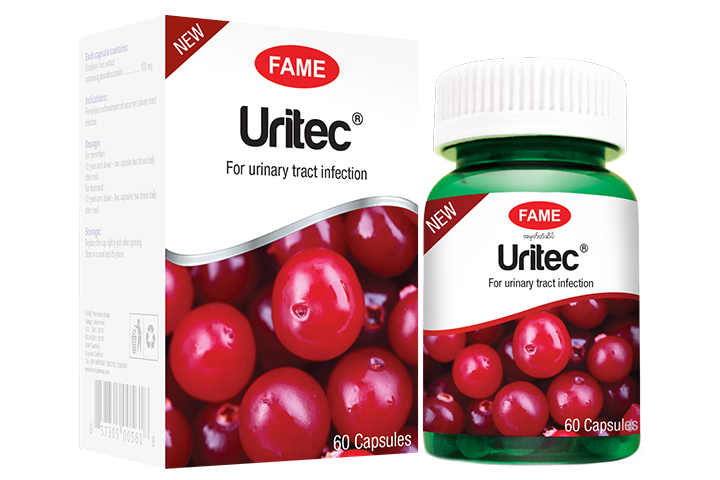 Product Description
Supplement Facts
Directions To Use
Pharmacological actions:
The proanthocyanidins (PACs) present in cranberries have an uncommon A-type intermolecular double linkage that have strong bacterial anti-adhesion properties. E.coli bacteria cause 80-90% of urinary tract infections (UTIs), the most common infection among women and have a high reoccurence rate. PACs from cranberries affect E.coli cells in three ways:
(1) change the shape of the E.coli from rods to spheres
(2) alter the cell membranes and
(3) compress tendrils on the outside of the cells, which affects E.coli's ability to attach to cells lining of the bladder wall.
All of these effects inhibit the bacteria's attachment to cells lining of the bladder wall. The other mechanism by which a change in the pH of urine is by converting of benzoic acid in the fruit to hippuric acid, results in the production of sufficient hippuric acid to be effective as a urinary bacteriostatic agent. It helps to reduce urinary odor making it useful for who are incontinent.
Composition:
Each capsule contains
Proanthocyanidin
from cranberry fruit extract ………. 100 mg
Indications:
Prevention and treatment of recurrent urinary tract infection
Dosage:
12 years and above
For prevention – one capsule two times daily
For treatment – two capsules two times daily after meal
Combination therapy:
It should be used in combination with Urocrush® for urolithiasis.
Contraindication:
Chronic renal parenchymal disease and people taking warfarin.
Quantity supplied:
60 capsules per bottle