Tinoflam®
Natural anti-inflammatory agent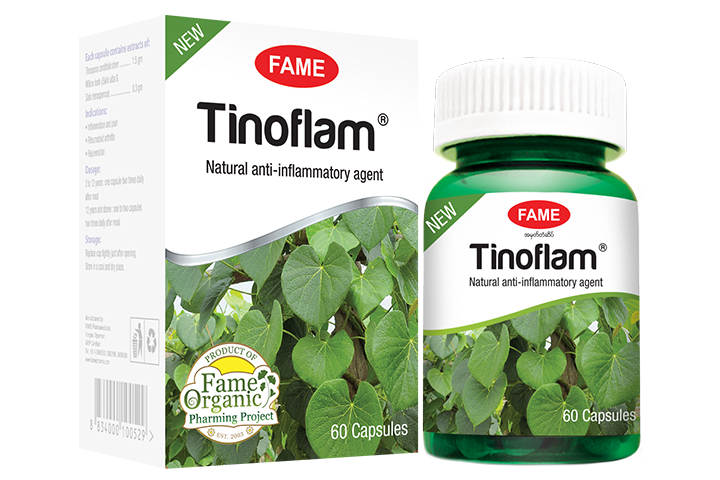 Product Description
Supplement Facts
Directions To Use
Pharmacological actions:
♦ Anti-inflammatory action similar to NSAID
♦ Immunoenhancement and improve neutrophil function
♦ Antioxidant action by increasing the levels of glutathione and vitamin C
♦ Anti-aging
♦ Anti-diabetic action similar to sulfonylurea
♦ Hypolipidaemic action reducing serum cholesterol, phospholipid and free fatty acid
♦ Enhance memory and learning capacity
♦ Anti-platelet action
Composition:
Each capsule contains
Organic Tinospora cordifolia extract equivalent to 1.5 gm of crude powder
Organic Willow bark (Salix alba and Salix tetrasperma) extract equivalent to 0.3 gm of crude powder
Active Constituents:
The active constituents are glycosides and alkaloids identified as tinosporin, tinosporide, tinosporaside, cordifolide, cordifol, syringin, cordiol, hepatosanol, columbin and beta-sitosterol.
Indications:
♦ Inflammatory conditions such as arthritis, myositis, hepatitis and soft tissue inflammation
♦ Immunoenhancement, increase production of antibody and white blood cells
♦ Antioxidant, anti-aging and longevity
♦ Diabetes mellitus
♦ Anti-platelet action
Dosage:
Child – one capsule two times daily after meal
Adult – one to two capsules three times daily after meal
Drug interactions:
1. Synergistic effects are to be expected especially in case of rheumatoid arthritis with combination therapy of NSAID and Tinoflam® in the initial one to two weeks of inflammation.
2. Alcohol may mask symptoms of salicylate overdose and may enhance the toxicity of salicylates.
Quantity supplied:
10 capsules in one strip
3 strips per box