SpiruEmblica®
Natural antioxidant supplement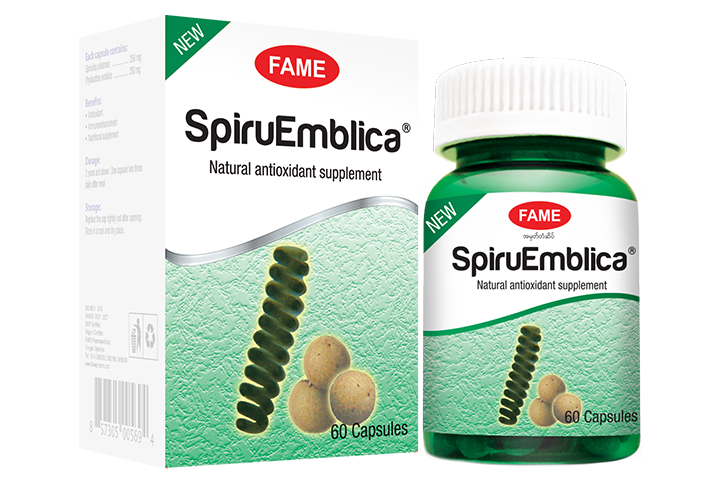 Product Description
Supplement Facts
Directions To Use
Pharmacological actions:
1. Nutritional supplement
Spirulina platensis (Spirulina) is composed of protein, carbohydrate, essential fatty acid (GLA), vitamins and minerals. It is very rich in antioxidants such as b- carotene, vitamin E and SOD Enzyme. Effect of GLA on lipid profile pointed out that it has effect of lowering serum total cholesterol. The only vitamin lack in spirulina is vitamin C.
Emblica officinalis (Amla) is the richest source of vitamin C in nature. In addition, the tannins present in it retard the destruction of vitamin C and enhance its activity. According to research, 8.7 mg of natural vitamin C from Amla is equivalent to 100 mg of synthetic one. Amla also contains about 500 units of SOD/g fresh weight.
By combining the Spirulina and Amla, enhances the bioavailability of active ingredients.
2. Anti-oxidant action
SpiruEmblica® contains a wide range of natural antioxidants which can prevent cancer and degenerative disorders. It can slow down the aging process and rejuvenate your body & mind.
3. Immunoenhancement action
The phycocyanin from spirulina can enhance both humoral & cellular arms of immune system. Phyllemblin from amla enhances the immune system and is described as a tonic for heart & brain. It also has anti-bacterial, anti-viral and anti-fungal activity.
Composition:
Each capsule contains
Spirulina platensis
Emblica officinalis
…………… 250 mg
…………… 250 mg
Benefits:
♦ Antioxidant
♦ Immunoenhancement
♦ Nutritional supplement
Dosage:
Child & Adult – one capsule two times daily after meal
Quantity supplied:
60 capsules per bottle