SawPalmetto
5α-reductase inhibitor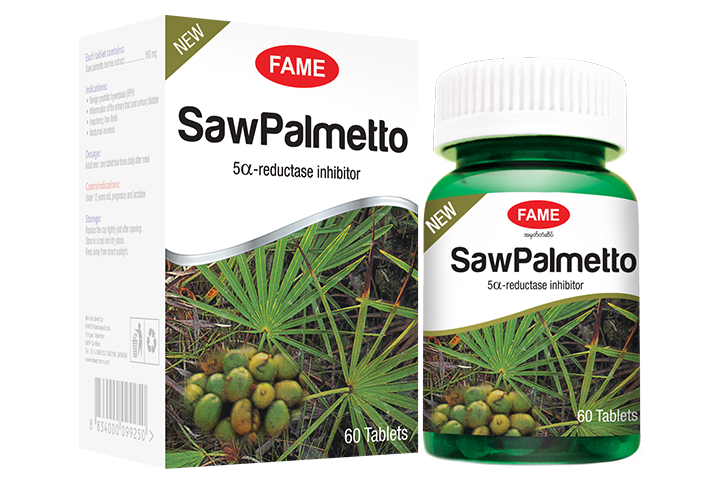 Product Description
Supplement Facts
Directions To Use
Pharmacological actions:
♦ Anti-androgenic effect
♦ Anti-estrogenic effect
♦ Anti-inflammatory effect
♦ Decreased the hypertrophic and hyperplastic activity of prostate gland
♦ Increased urinary flow
♦ Decreased frequency of urination
♦ Reduced discomfort associated with BPH and inflammation of urinary tract
♦ Increased sperm production and sexual activity
Composition:
Each tablet contains
Standard extract of Saw palmetto (Serenoa repens) berries ……160 mg
Indications:
♦ Prevention and treatment of BPH
♦ Inflammation of the urinary tract and urinary bladder
♦ Impotency, low libido
♦ Nocturnal enuresis
Dosage:
Adult: One tablet two times daily after meal
It's better to continue treatment although the signs and symptoms of BPH is relieved especially in man over 60. Otherwise, the prostate gland may gradually enlarge and symptoms will appear again.
Drug interactions:
SawPalmetto can be used together with BeePollen in case of BPH, for obtaining their synergistic effect.
SawPalmetto is believed to exert estrogen, androgen and α-adrenergic blocking effects, using hormone like drugs or adrenergic drugs concomitantly may need to be adjusted.
Quantity supplied:
60 tablets per bottle