Salixin®
Natural analgesic & antipyretic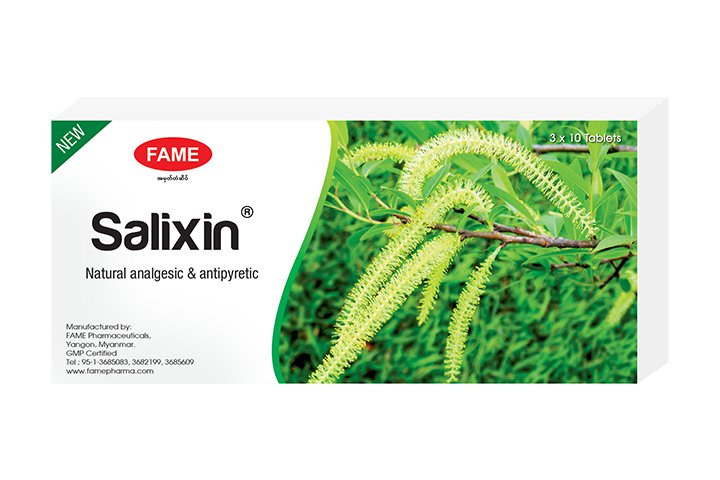 Product Description
Supplement Facts
Directions To Use
Pharmacological actions:
Willow bark contains a group of phenolic glycosides mainly salicortin and salicin. Salicortin is hydrolysed in the small intestines into salicin and its esters which are further hydrolysed into saligenin and glucose. In contrast to aspirin (acetyl salicylic acid), both salicortin and salicin have no effect on gastric mucosa and therefore there is no chance of gastric irritation or erosion and bleeding from GI tract. Saligenin is then absorbed via terminal ileum and oxidized to salicylic acid in the liver and blood. Salicylic acid reduces prostaglandin levels in body tissue through an inhibition of PGH-synthase in inflamed tissues (COX-2) and are predominantly used for anti- inflammatory and analgesic properties. Additionally, it has no anti-platelet action, no chance of bleeding from blood vessels due to the lack of acetyl group in its molecular structure.
Differences between synthetic aspirin and natural salicin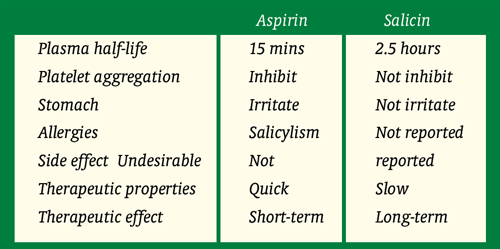 Composition:
Each tablet contains standardized extract of
Willow bark (Salix alba & salix tetrasperna) …….. 500 mg
(Equivalent to 75 mg salicin)
Indications:
Headache, muscle pain, joint pain, arthritis, common cold and fever
Dosage:
Child and Adult – one tablet two times daily after meal
Contraindication:
Aspirin sensitive patients, asthmatics and diabetic patients, children with viral infection such as chicken pox
Drug interactions:
NSAIDS, alcohol and barbiturates may mask the symptoms of salicylate over dose.
Quantity supplied:
10 tablets in one blister
3 blisters per box