Rejuvir®
Phytoestrogen supplement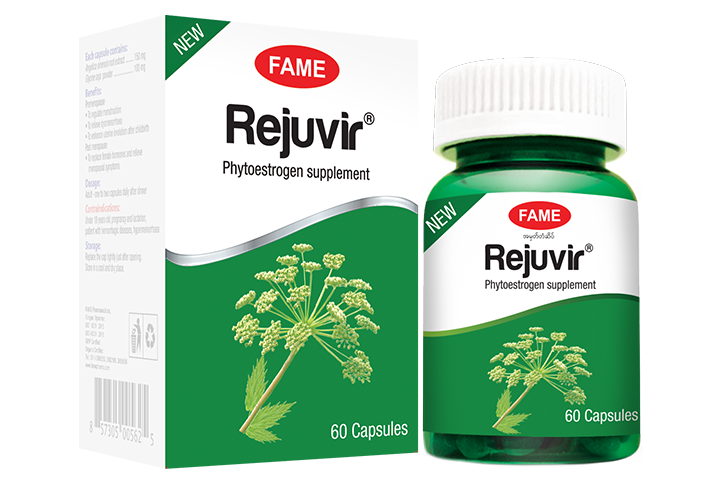 Product Description
Supplement Facts
Directions To Use
Pharmacological actions:
1. Relieve menstrual disorders
2. Smooth muscle contraction
3. Anti-thrombotic activity
4. Hormone Replacement Therapy (HRT)
5. Menopausal symptoms
Composition:
Each capsule contains
Angelica sinensis (Dong quai) root extract
Glycine soja (Soybean) standard powder
…………… 150 mg
…………… 100 mg
Active Constituents:
The characteristic components of dong quai are simple alkyl phthalides (N-butyliden-phthalide, N-butyl-phthalide, Ligustilide), which are the major components of the essential oil fraction of the roots.
The constituents of soybeans are isoflavones. The principal isoflavones are genistein, daidzein and their metabolites. Coumestrol and the isoflavones closely mimic estrogen within the body.
Indications:
♦ Pre-menopause
To regulate menstruation
To relieve dysmenorrhoea
To enhance uterine involution after childbirth
♦ Post-menopause
To replace female hormones
To relieve menopausal symptoms
Dosage: One capsule once daily after dinner
Contraindication: During pregnancy
Side effects: Nausea and dizziness, which may disappear if the drug is taken after meal.
Drug interactions: Decreased prothrombin time was reported in people whom received both wafarin and a repeated oral dose of Rejuvir®. Therefore, patients receiving anti-coagulant therapy should be advised against taking it without medical supervision.
Quantity supplied: 60 capsules per bottle