Phototec®
Natural antioxidant for eyes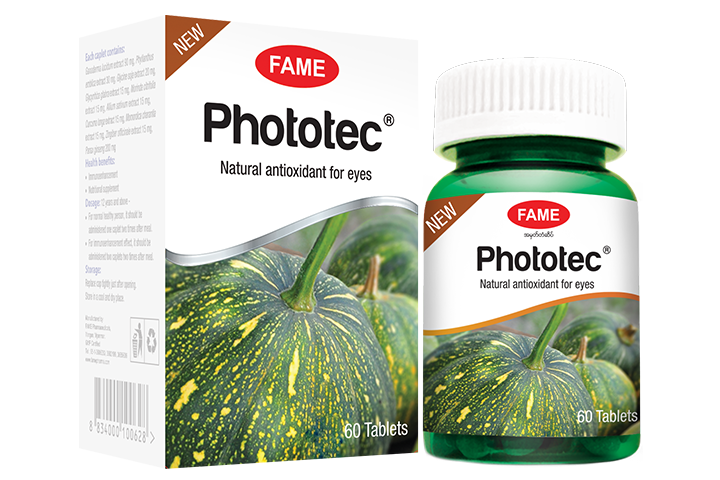 Product Description
Supplement Facts
Directions To Use
These natural plant extracts are very rich in antioxidants for eyes especially lutein 10 mg and zeaxanthin 5 mg in each tablet.
Phytochemistry:
Lutein and zeaxanthin: They belong to the xanthophylls class of carotenoids also known as oxycarotenoid. They are natural fat soluble yellowish pigments, found in algae, phytosynthetic bacteria and in some plants as well as in chicken egg yolks.
Promotion effects on eye health: Lutein and zeaxanthin are mainly accumulated in the macula of the retina, where they bind to the retinal protein tuberlin. While lutein is distributed throughout the retina, zeaxanthin is specifically concentrated in the macula.
Composition:
Each tablet contains:
Pumpkin
Okra
Guava
Mustard
Egg yolk
…………… 50 mg
…………… 50 mg
…………… 50 mg
…………… 50 mg
…………… 50 mg
Indications:
♦ Nourishing the eyes
♦ Protection of phototoxic (UV) damage
♦ Protection against macular degeneration
♦ Reduction on the risks of cataract
Dosage:
12 years and above
For prevention – one tablet two times daily
For treatment – two tablets two times daily
Quantity supplied:
60 tablets per bottle