Neurodopa®
Natural dopamine supplement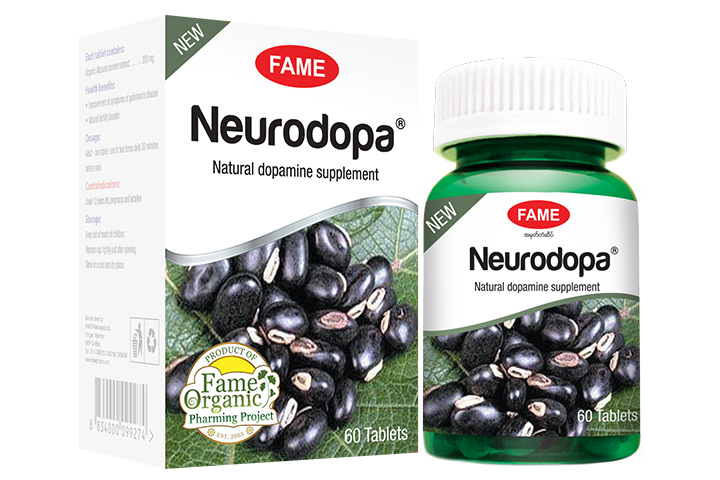 Product Description
Supplement Facts
Directions To Use
Pharmacological actions:
Anti-parkinsonian activity
The natural source of Levodopa (L-dopa) obtained from the seed of Mucuna pruriens is an important constituent used in Parkinson's disease which is a progressive neurological disorder caused by a shortage of dopamine. Unlike chemical dopamine, L-dopa can cross the blood brain barrier and is converted to dopamine in brain cells. It controls not only the symptoms of Parkinson's disease but also has neurorestorative benefits on the degenerating dopaminergic neurons in the substantia nigra by replenishing the brain's dopamine. They prevent dopamine-producing brain cells from dying by working as an antioxidant and as a dopamine provider. Therefore, Mucuna pruriens has been successfully used for Parkinson's disease in Brazil & India since many centuries.
Aphrodisiac activity
Mucuna seed extract increases in magnesium content and sperm count in oligospermic cases. By administering orally, it shows significant improvement in functional impotency and oligospermia. It also enhances libido due to its dopamine content.
Composition:
Each tablet contains
Organic Mucuna pruriens extract ………. 200 mg
Indications:
♦ Parkinson's disease
♦ Erectile dysfunction
Dosage:
For prevention – one tablet once daily
For treatment – one tablet two times daily 30 minutes before meal
Contraindications:
Children under 12 years, pregnancy and lactation. Neurodopa® should be used with medical supervision in people with hypoglycemia and excessive androgen syndromes.
Combination therapy:
It can also be used together with Neurogin® for more effective treatment.
Storage:
Keep out of the reach of children.
Replace the cap tightly just after opening.
Store in a cool and dry place.
Quantity supplied:
60 tablets per bottle