Nemoderm®
Natural anti-septic cream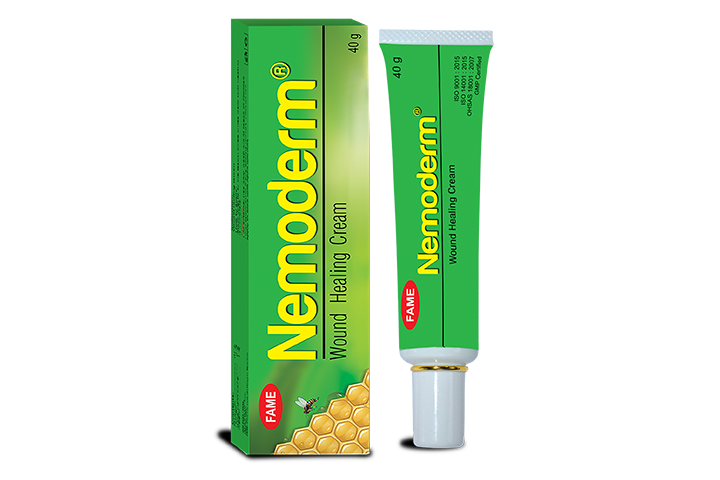 Product Description
Supplement Facts
Directions To Use
Pharmacological actions:
Neem (Azadirachta indica) is one of the famous phytomedicines, especially in India and Myanmar, that has anti-fungal, anti-scabies, anti-bacterial and anti-inflammatory actions. Azadiradione, a tetranotriterpenoid, which is effective against superficial fungal skin infections like tinea infection and scabies. Mahmoodin, a new limonoid compound, which has significant anti-bacterial activity against Gram-positive and Gram-negative organisms, including Staphylococcus, Pseudomonas and Klebsiella by inhibition of cell membrane synthesis. Anti-inflammatory action is mediated by the water soluble part of ethanolic extract.
The active principle of Turmeric (Curcuma longa) is known as curcumin which has anti-inflammatory, antioxidant and anti-bacterial actions. Curcumin when applied to the skin and exposed to sunlight, the healing rate is increased. Turmeric is useful in treating eczema, psoriasis, fungal infections and athlete's foot.
Propolis (Bee glue) contains flavonoids which have strong anti-bacterial, anti-fungal, anti-viral and anti-inflammatory properties. It is a potent natural bactericidal and viricidal agent. It promotes healing and lessens chance of blister formation and ugly scar in burns and scald.
Aloe vera extract contains aloe-emodin as active constituent. It has action of anti-bacterial, anti-viral and anti-inflammatory properties. It is remarkably effective in wounds, speeding up the rate of healing and reducing the risk of infection. It enhances skin regeneration.
Composition:
20 g tube contains
Neem extract
Turmeric extract
Propolis extract
Aloe vera extract
…………… 2.0 g
…………… 2.0 g
…………… 0.4 g
…………… 0.2 g
Indications:
Anti-fungal, anti-bacterial, anti-scabies and eczema
Dosage:
Applied directly to the affected area three times daily until healing is complete.
The duration of treatment:
For skin abrasion & bacterial skin infection – 1 week
For tinea infection – 6 to 8 weeks
For eczema – 8 to 12 weeks
Caution:
For external use only
Keep out of reach of children.
Stop application if any allergy occurs.
Quantity supplied:
20 g per tube