Nature-Q10®
Coenzyme Q10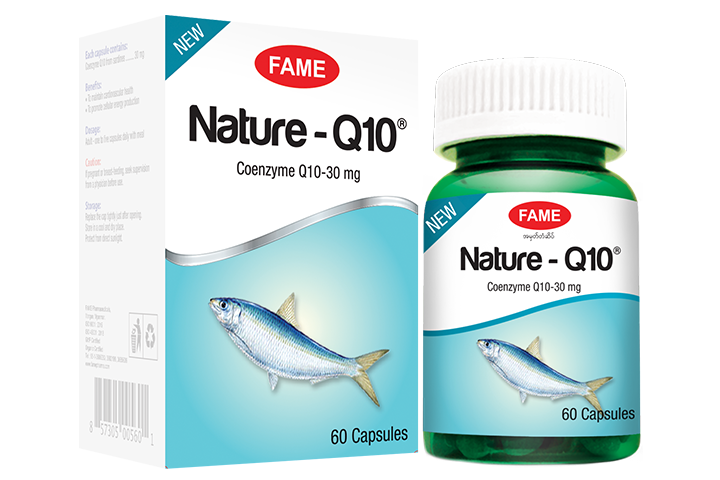 Product Description
Supplement Facts
Directions To Use
Pharmacological actions:
CoQ10 and congestive heart failure
CoQ10 provides optimal nutritional support for the cardiovascular system. It is effective in the treatment of congestive heart failure by building heart energy in mitochondria and enhancing the mechanical function. Several studies showed that CoQ10 has clinical benefits for 70% of the patients having CHF.
CoQ10 and high blood pressure
CoQ10 lowers systolic and diastolic pressure by stabilizing the vascular membrane via its antioxidant properties. It protects against oxidation of cholesterol and therefore it is a preventive factor of atherosclerosis. As a result, peripheral resistance to blood flow is reduced and thus improve vascular dilatation by nitric oxide.
CoQ10 and cardiomyopathy
After daily administration of CoQ10 for 12 weeks, increased cardiac ejection fraction, significantly reduced shortness of breath and increased muscle strength. CoQ10 supplementation is a critical therapeutic measure in cadiomyopathy that can result in improved quality and increased life span.
CoQ10 and angina
CoQ10 is effective in angina patients compared to placebo. It can reduce the frequency of anginal episodes and the need for nitroglycerine.
Composition:
Each capsule contains
Coenzyme Q10 from sardines …………….. 30 mg
Indications:
Prevention and treatment of cardiovascular diseases such as congestive heart failure, high blood pressure, cardiomyopathy and angina.
Dosage: (Adult)
For prevention – one capsule daily after meal
For treatment – one to five capsules daily after meal
Caution:
If pregnant or breast-feeding, seek supervision from a physician before use.
Drug interaction:
Coenzyme Q10 decreases the effect of warfarin.
Quantity supplied:
60 capsules per bottle