MilkThistle
80% Silymarin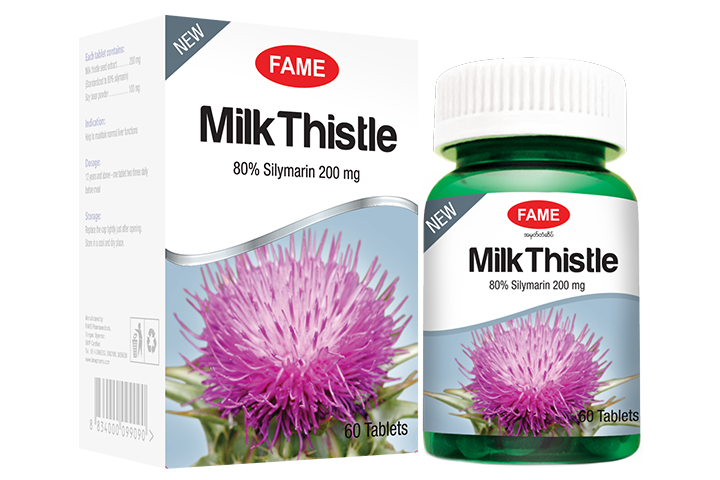 Product Description
Supplement Facts
Directions To Use
Pharmacological actions:
The therapeutic efficacy is based on several separated mechanisms of action.
♦ Hepatoprotective effects
♦ Enhance hepatic glutathione activity for elimination of cytoxicity in human
♦ Prevent lipid peroxidation in hepatocytes in mushroom poisoning and other form of liver poisoning
♦ Promote liver cells regeneration
♦ Anti-inflammatory effects
Composition:
Each tablet contains
Milk thistle seed extract (Standardized to 80% silymarin)
Soy bean powder
…………… 200 mg
…………… 100 mg
Indications:
♦ Liver intoxication damaged by alcohol, drugs and chemicals
♦ Mushroom poisoning
♦ Fatty liver
♦ Cirrhosis of liver
♦ Chronic hepatitis
♦ Hepatomegaly
Dosage: 12 years and above – one tablet two times daily before meal
The dose can be doubled in case of severe liver intoxication and cirrhosis of liver because silymarin is not found to be toxic.
Side effects: Gastrointestinal disturbances because of gall bladder stimulation but these will subside within a week. Skin reactions such as pruritus, rash, urticaria and eczema in sensitive individual. Headache, arthralgia, rhinoconjunctivitis rarely occur.
Drug Interaction: MilkThistle should be used in combination with Completec® in cirrhosis of liver and chronic hepatitis for minimum of 6 months.
Quantity supplied: 60 tablets per bottle