Mangosteen
Natural antibiotics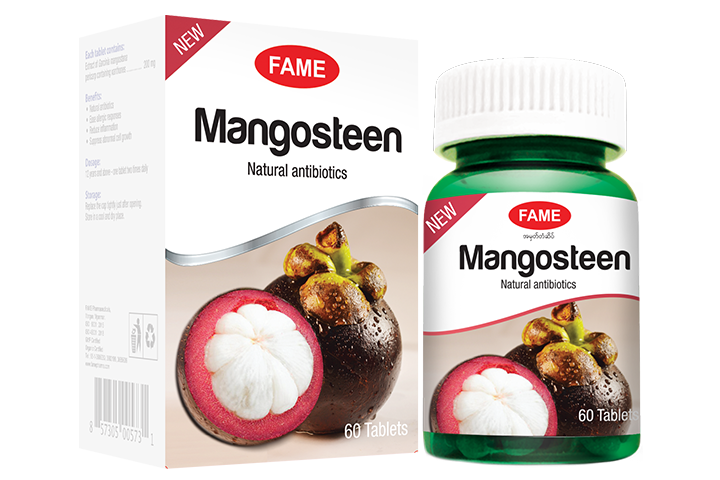 Product Description
Supplement Facts
Directions To Use
Phytochemistry:
Approximately 40 of over 200 naturally occurring xanthones are found in Garcinia mangostana (mangosteen). The most studied xanthones are α, β and γ-mangostins, garcinone E, 8-deoxygartanin and gartanin. They possess antioxidant, anti-tumoral, anti-allergic, anti-inflammatory, anti-bacterial, anti-fungal and anti-viral properties.
Pharmacological actions:
♦ Anti-microbial activities: The extract has broad spectrum anti-bacterial activity against several Gram-positive and Gram-negative bacteria.
♦ Anti-allergic action: The extract strongly inhibits histamine release and prostaglandin E2 synthesis.
♦ Anti-inflammatory action: It attenuates expression of inflammatory mediators such as TNF-α and IL-6, NF-ϰB. Ingestion of a blended mangosteen juice decreased serum C-reactive protein levels.
♦ Anti-tumor activities: Includes cell cycle arrest, suppression of tumor cell proliferation, induction of apoptosis and differentiation, reduction of inflammation and inhibition of adhesion, invasion and metastasis.
Composition:
Each tablet contains
Extract of Garcinia mangostana pericarp containing xanthones ………….. 200 mg
Benefits:
♦ Ease allergic responses
♦ Reduce inflammation
♦ Suppress abnormal cell growth
Dosage:
12 years and above – one tablet two times daily
Drug Interaction:
Mangosteen can be used in combination with other chemotherapeutic agents as adjuvant therapy to achieve increased therapeutic efficacy and minimize chemotherapy-induced toxicity.
Quantity supplied:
60 tablets per bottle