Immugin®
Natural adaptogen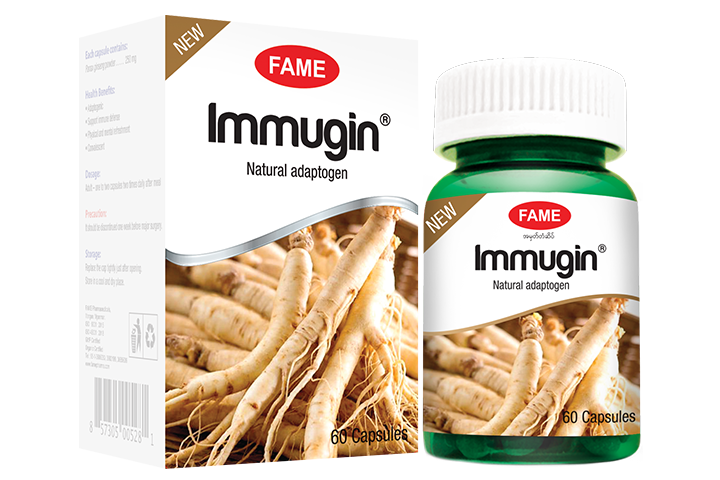 Product Description
Supplement Facts
Directions To Use
Pharmacological actions:
1. Restores and strengthens the body's immune response as immunomodulator.
2. Increases vitality and ability to withstand stress. Ginsenoside can stimulate hypothalamus to release corticotrophin, which in turn acts on the pituitary gland to release ACTH that stimulates adrenal cortex to release indogenous cortisols.
3. Promotes longevity, metabolism and growth of normal cells as cancer preventive effect.
Composition:
Each capsule contains
Panax ginseng (BHP) powder …………………. 250 mg
Indications:
♦ Immunomodulation, useful supplement to HIV infection and patient in convalescent stage
♦ Patient with hypotension, hypercholestrolaemia, diabetes mellitus
♦ Chronic fatigue syndrome
♦ Anti-aging and longevity
♦ Physical and mental stress
♦ Athletes and students during examination
Dosage: 2 years and above – one to two capsules two times daily after meal
Caution: It should not be used during pregnancy and lactation without medical supervision. It should be used with caution in patients with hypertension, bronchial asthma, heart failure, under steroid, anti-coagulant and anti-psychotic drug therapy.
Drug interactions:
Anti-diabetic drug: Immugin® may reduce the blood glucose and potentiate the action of anti-diabetic drugs.
Anti-coagulant therapy: There is possible interaction of ginseng with warfarin, so Immugin® should be omitted in case of anti-coagulant therapy.
Monoamine-oxidase inhibitor: Immugin® may potentiate the action of MAOI.
Quantity supplied: 60 capsules per bottle