Honokiol
Chronic Hepatitis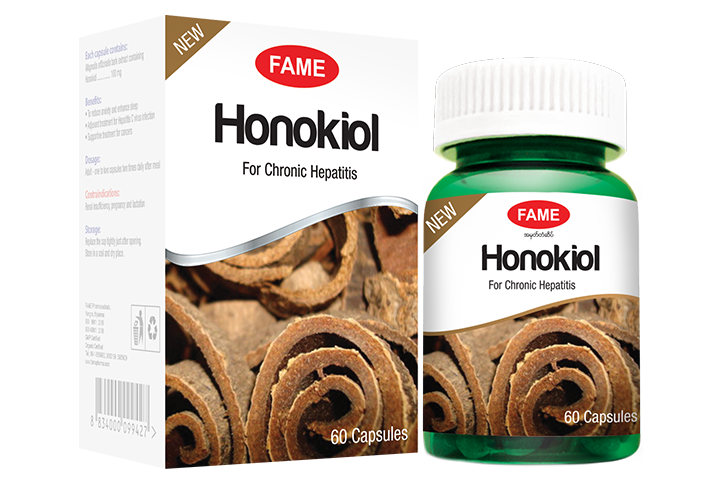 Product Description
Supplement Facts
Directions To Use
Pharmacological actions:
Honokiol can readily cross the blood brain barrier and therefore it is a potentially potent therapy with high bioavailability. It has been shown to have anti-depressant, anxiolytic, antioxidant, anti-HCV and anti-tumor effects.
♦ Effect on CNS: It has been shown to promote neurite outgrowth and have neurotrophic effects in rat cortical neurons.
♦ Effect on tumor: It has pro-apoptotic effects in melanoma, sarcoma, leukemia, prostate, bladder, lung and oral squamous cell carcinoma and colon cancer cell lines.
♦ Effect on HCV: Honokiol inhibits the entry and replication steps of HCV life cycle in vitro, according to research done in National Yang-Ming University, Taipei, Taiwan.
Composition:
Each capsule contains
Magnolia officinalis bark extract (containing Honokiol 95%) ………………….. 100 mg
Benefits:
♦ To reduce anxiety and to enhance sleep
♦ Adjuvant treatment for Hepatitis C virus infection
♦ Supportive treatment for cancers
Dosage:
Adult – one to two capsules two times daily after meal
Drug Interaction:
Honokiol may interact with paracetamol, benzodiazepan (additive effect) and anti-platelet medication. It may also stimulate corticosterone secretion or increase steroid medication concentrations. It may cause sleepiness, drowsiness, vertigo and dizziness in patients taking muscle relaxants.
Quantity supplied:
60 capsules per bottle