HerbalSleep®
Herbal sedative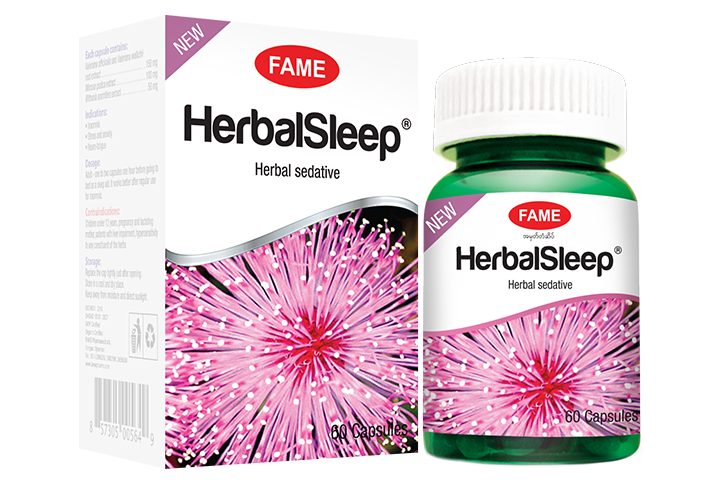 Product Description
Supplement Facts
Directions To Use
Pharmacological actions:
♦ Valeriana officinalis & Valeriana wallichi: Valerian has a long history of use in Western Europe as a sedative from Hippocrate's time. The active compounds of valerian extract are valerenic acid and valepotriates. These compounds affect brainreceptors for the neurotransmitter GABA, increasing GABA concentration and decreasing CNS activities. Several recent studies have shown that it reduces sleep latency and improves sleep quality.
♦ Mimosa pudica: A number of clinical investigations have demonstrated that Mimosa pudica extract produces a calming effect in neurosis and induces sound sleep. It also has beneficial effects on several disorder parameters such as inner restlessness, frequency of waking and final wake time after sleep.
♦ Withania somnifera: It is known to have anxiolytic, hypnotic and sedative effects and extensively used in India. This effect is contributed to the presence of alkaloid-somniferin. It relieves nervous exhaustion and promotes healthy sleep.
Composition:
Each capsule contains
Valeriana officinalis & Valeriana wallichi root extract
Mimosa pudica extract
Withania somnifera extract
…………… 150 mg
…………… 100 mg
…………… 50 mg
Indications:
♦ Insomnia
♦ Stress and anxiety
♦ Neuro-fatigue
Dosage:
Adult – 1 to 2 capsules one hour before going to bed as a sleep aid
Contraindications:
Children under 12 years, pregnancy & lactating mother, cirrhosis of liver, hypersensitivity to any constituent of the herbs
Drug Interaction:
HerbalFresh® should be used in the morning to enhance efficacy of sleep.
Storage:
Replace the cap tightly just after opening.
Store in a cool and dry place.
Keep away from moisture and direct sunlight.
Quantity supplied:
60 capsules per bottle