HerbalFresh®
Mental refreshment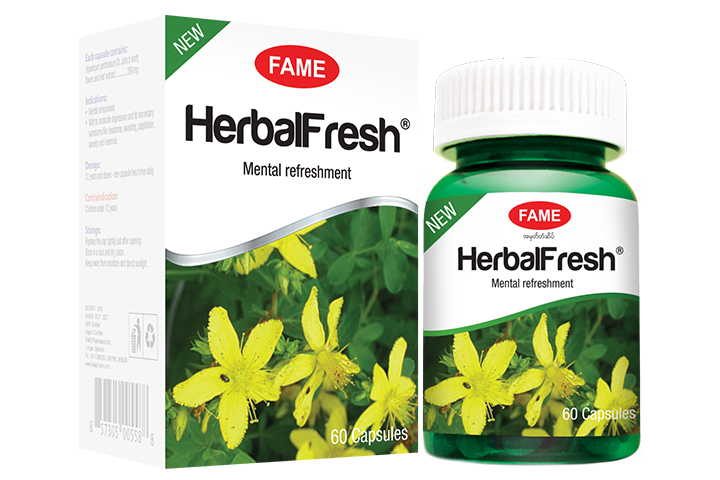 Product Description
Supplement Facts
Directions To Use
Plant description:
The medicinal parts of St. John's wort are flowering parts and leaves. It is widely grown in Europe and hilly region of Asia especially in Shan State of Myanmar.
Pharmacological actions:
St. John's wort inhibits the activity of monoamine oxidase (MAO) enzyme, enabling the increased level of various nerve-impulse transmitters critical to mood and emotional stability in the brain.
Composition:
Each capsule contains
Hypericum perforatum (St. John's wort) flower and leaf standard extract……….. 250 mg
Indications:
♦ Mental refreshment
♦ Mild to moderate depression and its secondary symptoms like headache, sweating, palpitation, anxiety and insomnia
Dosage:
One capsule two times daily
Contraindication:
Children under 12 years
Caution:
If pregnant or breast-feeding, seek supervision from a physician before use.
Storage:
Replace the cap tightly just after opening.
Store in a cool and dry place.
Keep away from moisture and direct sunlight.
Quantity supplied:
60 capsules per bottle