Hepaforte®
For chronic hepatitis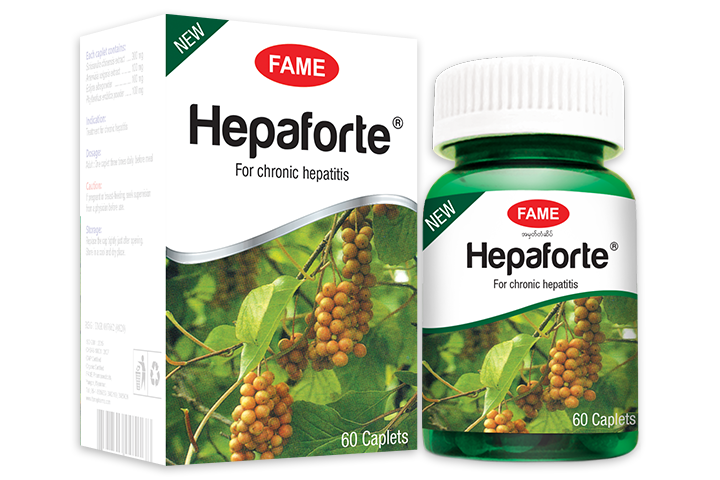 Product Description
Supplement Facts
Directions To Use
Pharmacological actions:
Schisandra chinensis: Major constituents include the lignans gomisin A, schizandirus and schizandrol. Extracts of the fruit have antiviral, antioxidant and liver protective effect.
Artemisia vulgaris: The aqueous extract significantly reduces the toxin-induced rise in plasma ALT and AST.
Eclipta alba: The active ingredient is wedelolactone which can lower serum transminase level. It is a potent and selective 5-lipoxygenase inhibitor. The inhibition occurs via extremely aggressive oxygen radical scavenging. It is widely used for the treatment of chronic hepatitis.
Emblica officinalis: The herb exhibits antiviral actions and also protects the liver damage induced by carbon tetrachloride.
Composition:
Each caplet contains
Schisandra chinensis extract
Artemisia vulgaris extract
Eclipta alba powder
Emblica officinalis powder
…………… 300 mg
…………… 100 mg
…………… 100 mg
…………… 100 mg
Indication:
Treatment for Chronic Hepatitis
Dosage:
Adult – one caplet three times daily before meal
Caution:
If pregnant or breast-feeding, seek supervision from a physician before use.
Quantity supplied:
60 caplets per bottle