GynuHerb®
Natural medicine for diabetes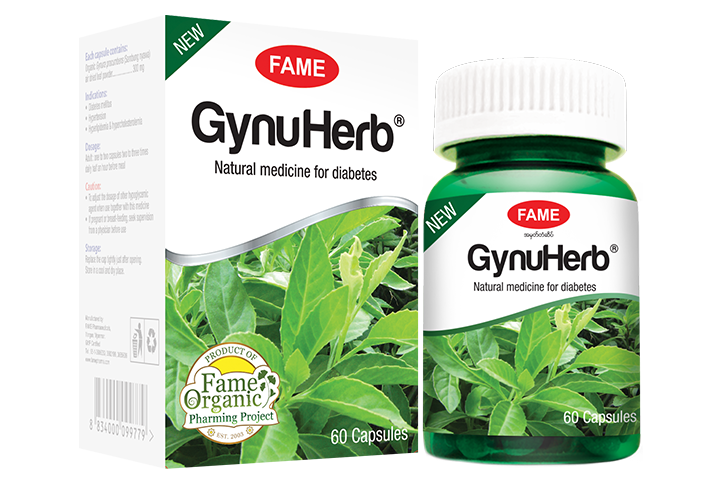 Product Description
Supplement Facts
Directions To Use
Pharmacological Actions:
1. Conversion of glucose to vitamin C
2. Anti-diabetic action
3. Anti-hypertensive action
Composition:
Each capsule contains
Organic Gynura procumbens air dried leaf powder ……….. 300 mg
Active Constituents:
Gynura procumbens contains phytosterols (β-sitosterol and stigmasterol), sterol glycosides (3-O-β-D-glucopyranosyl b-sitosterol, 3-O-β-D-glucopyranosyl stigmasterol), nonadecane, phytyl valerate, adenosine, kaempferol-3-O-neohesperidoside, methyl hexadecanoate, methyl 9-octadecenoate, 4-hydroxy-4-methyl-2-pentanone, stigmasterol acetate, quercetin-O-caffeoyl-quinic acid,1,2-bis-dodecanoyl-3-α-O-D-glucopyranosyl-Sn-glycerol.
Indications:
♦ Diabetes Mellitus
♦ Diabetic retinopathy & nephropathy
♦ Hypertension
♦ Hyperlipidemia & hypercholesterolemia
Dosage:
Adult – one capsule two times daily half an hour before meal
Caution:
♦ To adjust the dosage of other hypoglycemic agents when use together with GynuHerb®
♦ If pregnant or breast-feeding, seek supervision from a physican before use.
Drug Interaction:
It can be used together with DiabeHerb® and JavaHerb® for more effective treatment.
Quantity supplied:
60 capsules per bottle