Glycyrrhizin
For chronic hepatitis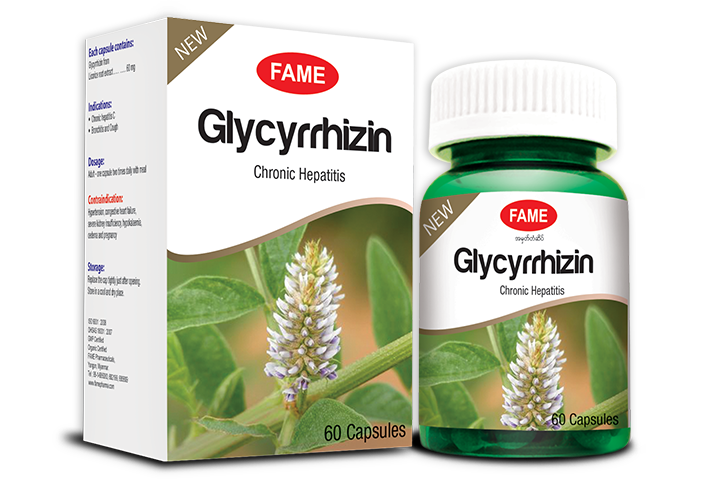 Product Description
Supplement Facts
Directions To Use
Pharmacological actions:
♦ Effect on HCV: Glycyrrhizin inhibits HCV full length viral particle and HCV core gene expression both at RNA and protein level. It can also suppress virus release. Glycyrrhizin exhibits a significantly higher ALT reduction compared to placebo after 12 weeks of therapy and an improvement of necro-inflammation and fibrosis after 52 weeks treatment. It is also documented to have hepatocyte protective effect against various hepatotoxic injuries, both in humans and in vitro.
♦ Effect on Respiratory tract: Glycyrrhizin has soothing and healing action, expectorant effect, reducing irritation and inflammation. Thus, it is useful in irritating coughs, asthma and chest infections.
Composition:
Each capsule contains:
Glycyrrhizin from Licorice root extract . . . . . . . . . 60 mg
Indications:
♦ Chronic hepatitis C
♦ Bronchitis and cough
Dosage:
Adult – one capsule two times daily with meal
Potassium supplementation is recommended with prolonged use.
Contraindications:
Hypertension, congestive heart failure, severe kidney insufficiency, hyperkalaemia, oedema and pregnancy
Quantity supplied:
60 capsules per bottle