Ganocan®
Anti-cancer herb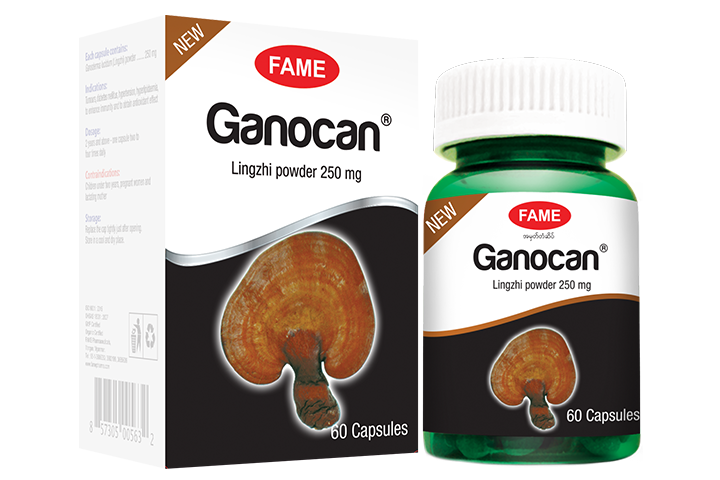 Product Description
Supplement Facts
Directions To Use
Best species:
Among a variety of lingzhi species, Ganoderma lucidum is the best for human heath.
Pharmacological actions:
Lingzhi can help
♦ Prevent metastasis of malignant tumors not only by reinforcing membrane of tumor cell to impede spreading, but also preventing thrombi formation
♦ Lower the blood sugar level due to its Ganoderan A and B
♦ Inhibit platelet aggregation
♦ Lower the blood cholesterol level
♦ Regulate blood pressure
♦ Normalize the overall body system
♦ Antioxidant and immunomodulating properties
Composition:
Each capsule contains
Ganoderma lucidum (Lingzhi) standard powder…………………. 250 mg
Indications:
♦ Tumors
♦ Diabetes mellitus
♦ Hyperlipidaemia and hypertension
♦ To enhance immunity
♦ To obtain antioxidant and anti-aging effects
Dosage:
Preventive purpose – one capsule two times daily
Diabetes and hypertension – one capsule three to four times daily
For malignancies – 12 to 20 capsules daily
Contraindications:
Children under two years, pregnancy and lactating mother
Drug Interaction:
Ganocan® should be taken with empty stomach for better absorption. Citrus juice should also be taken together to enhance digestion of long chain carbohydrate in lingzhi. Ganocan® can be used together with BeePollen especially in cancer patients, to obtain more effective treatment.
Quantity supplied:
60 capsules per bottle