Fruits and their health benefits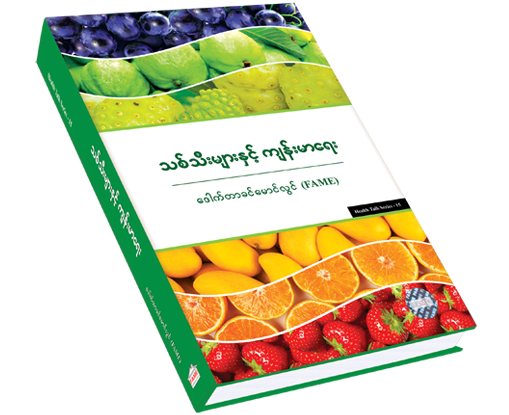 A "Fruits and their health benefits" book that has been written by Dr.Khin Maung Lwin (FAME) is clearly informed the reasons such as the nutritional values of the fruits , medicinal uses, side effects, do's and don'ts and so on with colorful pictures.
There are twenty kinds of fruits include Apple, Papaya, Guava, Mangosteen, Pineapple, Cranberry, Banana, Dragon fruit, Grape, Noni, Durian, Mango, Pomelo, Strawberry, Coconut, Avocado, Pomegranate, Orange, Sugar apple and Watermelon described in this book.
It is widely explained about medicinal portions that are contained in each kind of fruits, nutrition, health benefits, either suitable or not suitable for diabetes, including compounds which are merits and demerits to health.
Moreover it is also expressed the benefits to health of leaves which are dealing with fruits. Except from Cranberry, the rest of (19) kinds of fruits are well grown in our country.
So it is a good book that should be read by fruits lovers and people who would like to eat by choosing natural fruits that are fully nutritious and provide health.