Diarstat®
For bacillary dysentery and diarrhoea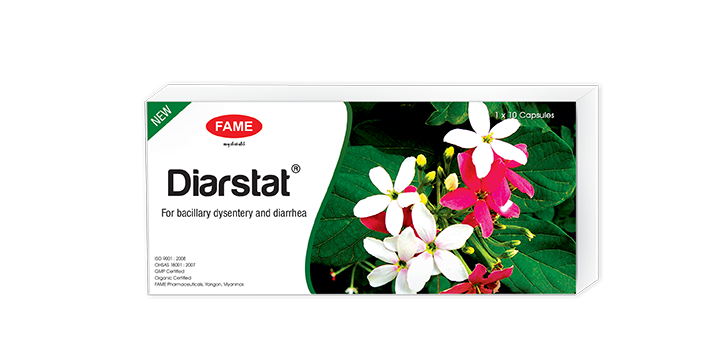 Product Description
Supplement Facts
Directions To Use
Pharmacological actions:
Quisqualis indica, Lawsonia alba and Leucaena glauca possess anti-bacterial property against Escherichia coli, Shigella species and Vibrio cholerae.
Ferula foetida has mild intestinal antiseptic and antiflatulent effects.
Acacia catechu is a strong astringent and clotting agent. It helps reduce excess mucus in the large bowel.
Zingiber officinale is an excellent remedy for indigestion, nausea, gas distension and colic.
Composition:
Each capsule contains extracts of "dried powder" of the following herbs:
Quisqualis indica
Lawsonia alba
Leucaena glauca
Ferula foetida
Acacia catechu
Zingiber officinale
…………… 1400 mg
…………… 380 mg
…………… 380 mg
…………… 60 mg
…………… 60 mg
…………… 60 mg
Indications:
Bacillary dysentery and bacterial diarrhea
Dosage:
18 years and above – two capsules
12 to 17 years – one capsule
6 to 11 years – half capsule
5 years and below – one-fourth capsule
To be used two times daily before meal for three to five consecutive days
Caution:
If pregnant or breast-feeding or children under 2 years, seek supervision from a physician before use.
Drug Interaction:
Diarstat® can be used together with antibiotics (eg. Ciprofloxacin, Chloramphenicol) in severe case of diarrhea and bacillary dysentery. It can also be used together with Dysenzi® or metronidazole.
Quantity supplied:
10 capsules in one blister with secondary box