DiabeHerb®
Natural hypoglycemic agent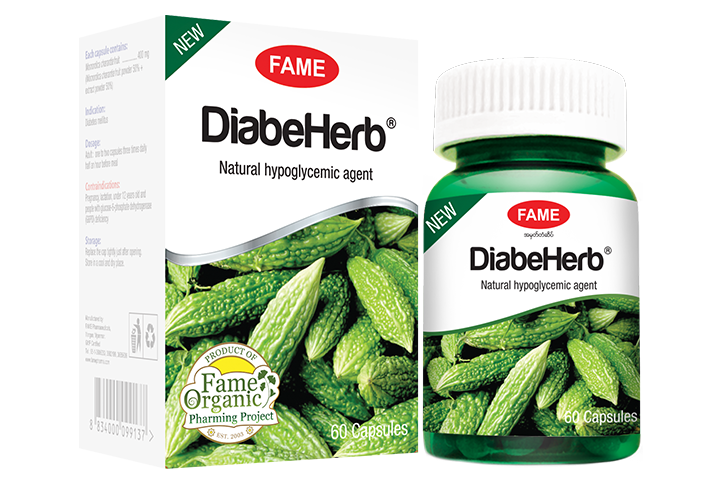 Product Description
Supplement Facts
Directions To Use
Pharmacological actions:
Momordica charantia contains pharmacologically active substances like triterpenoids, polypeptide-P and alkaloids. They can normalize the high blood sugar level of diabetic patient by the following ways:
♦ Triterpenoids reduce sugar absorption up to 30-40% by forming sugar-triterpenoid complex which can not readily absorb by the intestine.
♦ Triterpenoids enhance normal insulin synthesis by acting as coenzyme in this process.
♦ Polypeptide-P (also known as P-insulin) increases number of insulin receptors.
♦ Alkaloids and triterpenoids stimulate regeneration of β-cells of pancreas.
♦ Momordica charantia reduces insulin resistance by suppressing the release of anti-insulin antibody from the immune system.
Composition:
Each capsule contains
Momordica charantia standard fruit powder …………… 400 mg
(New modified formulation has been made to obtain the efficacy of previous 500 mg content)
Indications:
For prevention and treatment of diabetes mellitus
Dosage: (Adult)
Prevention – one capsule daily half an hour before meal
Treatment – one to two capsules three times daily half an hour before meal
Contraindication:
Pregnancy
Drug Interaction:
DiabeHerb® has synergistic hypoglycemic effect with insulin and other oral hypoglycemic agents. So, reduce the dose of these drugs when using together with DiabeHerb®. Consult with physician for dose adjustment. For more effective treatment, it can also be used together with GynuHerb® and JavaHerb®. DiabeHerb® has no interaction with other drugs and alcohol. DiabeHerb® is made from pulp powder of Momordica charantia and it's free from seed. So it has no effect on blood pressure and can be safely used in hypertensive patients.
Quantity supplied:
60 capsules per bottle