Cholecrush®
For gallstones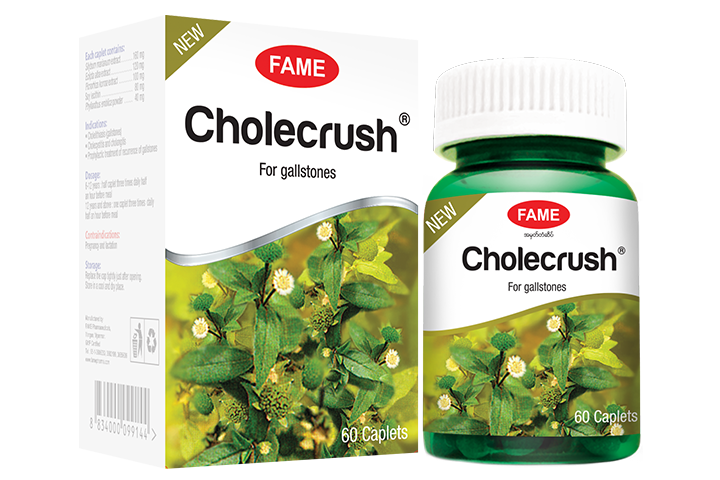 Product Description
Supplement Facts
Directions To Use
Silybum marianum (Milk thistle): It contains silymarin which may help to prevent or treat gallstones and reduce biliary cholesterol concentration.
Eclipta alba (False daisy): It contains a number of active principles that make the cholesterol more dissolved in the bile to prevent precipitation.
Picrorhiza kurroa (Christmas rose): It reduces cholesterol level by inhibiting the HMG Co-A reductase enzyme.
Soy bean (Soy Lecithin): Soy bean supplies lecithin for normal physiological function of the bile to prevent stone formation.
Emblica officinalis (Amla): Natural vitamin C is important for lowering bile cholesterol levels.
Pharmacological actions:
♦ dissolve gallstones
♦ inhibit cholesterol synthesis in liver
♦ reduce cholesterol concentration in the bile
♦ increase production of bile in liver
♦ more solubility of ingredients in bile
♦ maintain fluidity of bile
♦ reduce inflammation in biliary tract
♦ prevent further formation of gallstones
Composition:
Each caplet contains
Silybum marianum extract
Eclipta alba extract
Picrorhiza kurroa extract
Soy Lecithin
Emblica officinalis powder
…………… 160 mg
…………… 120 mg
…………… 100 mg
…………… 80 mg
…………… 40 mg
Indications:
Biliary disorders such as cholelithiasis (Gallstones), cholecystitis and cholangitis. Prophylaxis treatment of recurrence of gallstones.
Dosage:
Children 6 -12 years – half caplet three times daily half an hour before meal
12 years and above – one caplet three times daily half an hour before meal
Duration of treatment depends upon type, size, number and duration of gallstone formation.
Contraindications:
Pregnancy and lactation. Cholecrush® should not be used in patient with acute biliary obstruction by gallstones or other causes.
Drug Interaction:
Antibiotics may be used in combination with Cholecrush® in case of cholecystitis and cholangitis. It is beneficial to take together with Vitamin C, lecithin and Omega-3 fatty acid supplement.
Quantity supplied:
60 caplets per bottle