Chitobit®
Natural lipid inhibitor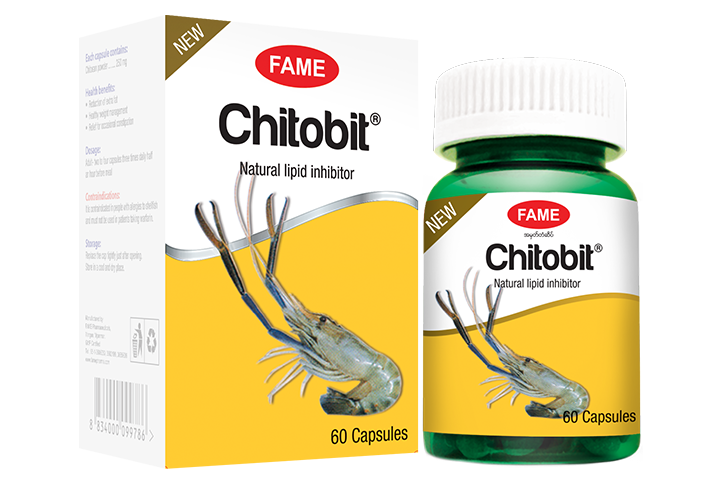 Product Description
Supplement Facts
Directions To Use
Pharmacological actions:
Chitosan acts as a "Fat Blocker". It is the only edible fibrin with positive charge in nature and can combine with fat having negative charge in food and bound with up to 12 times its weight in fatty oil in a process known as polymerization. The resulting molecule called chitosan-fat polymer is too large to be absorbed through the intestinal wall and therefore excreted via faeces without digestion.
Composition:
Each capsule contains
Standardized chitosan powder ……. 250 mg
(Pharmaceutical grade)
Indications:
♦ Hypercholesterolemia
♦ Obesity
♦ Atherosclerosis and hypertension
♦ Prevention of constipation
♦ Prevention of complications in diabetes mellitus
Dosage:
Adult – one to two capsules two times daily half an hour before meal
Precaution:
Those with shellfish allergies should use with caution.
Stop the drug if symptom of hypersensitivity occurs.
Side effects:
Gastrointestinal side effects such as nausea, loose motion and mild steatorrhea.
Drug interactions:
Chitosan can bind to certain drugs, especially lipophilic drugs (eg.Vitamin-E) by lowering their efficacy.
Quantity supplied:
60 capsules per bottle