Bromelain
For Healthy Digestive System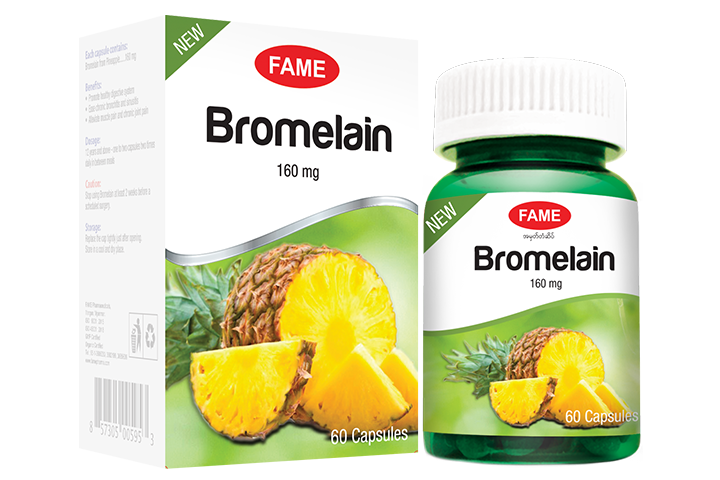 Product Description
Supplement Facts
Directions To Use
What is Bromelain?
Bromelain is a group of powerful protein-digesting enzymes which are found in pineapple plant (Ananas comosus).
Pharmacological actions
♦ Bromelain enhances the effect of digestive enzymes like trypsin or pepsin. It relieves heartburn and reduces the effects of diarrhea.
♦ Bromelain has been shown to suppress cough and ease congestion in chronic bronchitis. In patients with sinusitis and allergies, it helps to reduce inflammation and fluid retention in the nasal membranes.
♦ Research has shown that bromelain has a significant reduction in swelling, bruises and pain. It also has anti-inflammatory effect on the muscles and can help excess fluid drain from the site of muscle injury.
Composition:
Each capsule contains
Bromelain from Pineapple……160 mg
Benefits:
♦ Promote healthy digestive system
♦ Ease chronic bronchitis and sinusitis
♦ Alleviate muscle pain and chronic joint pain
Dosage:
12 years and above – one capsule two to four times daily in between meals
Caution:
Stop using Bromelain at least 2 weeks before a scheduled surgery.
Drug interactions:
♦ Bromelain increases the effect of antibiotics when take together.
♦ Bromelain could increase the risk of bleeding when taken together with anti-coagulants and anti-platelet drugs.
Quantity supplied:
60 capsules per bottle