Appletec®
Quercetin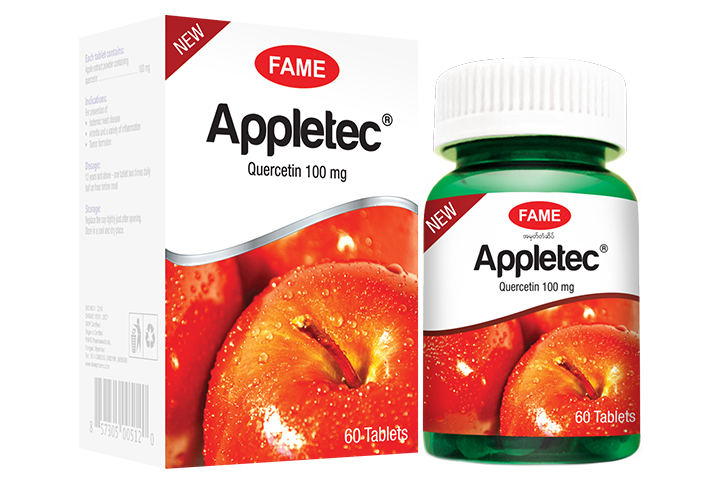 Product Description
Supplement Facts
Directions To Use
Phytochemistry:
Quercetin, one of the bioflavonoids, comprises a group of plant pigments that provide excellent cellular protection by modifying the action of allergens, carcinogens and viruses. It is found in seeds, nuts, flowers, barks, leaves and many others.
Pharmacological actions:
1. Antioxidant properties
Quercetin acts as a potent antioxidant, helps to reduce the risk of coronary heart disease and first heart attack.
2. Anti-inflammatory properties
It has an inhibitory effect on inflammation producing enzymes (cyclooxygenase, lipooxygenase), inflammatory mediators, including leukotrienes and prostagladins, as well as histamine release inhibition by mast cells and basophils. Therefore, it can also be used in allergies, asthma and hay fever.
3. Anti-tumor properties
Quercetin has a wide range of anti-tumor activities including squamous cell carcinoma, leukemia and cancers of the breast, ovaries, colon, prostate, rectum and brain.
Composition:
Each tablet contains:
Apple extract powder containing quercetin …………… 100 mg
Indications:
♦ Ischemic heart disease
♦ Arthritis and a variety of inflammation
♦ Prevention of tumor formation
Dosage:
12 years and above – one tablet two times daily half an hour before meal
Quantity supplied:
60 tablets per bottle