Ladymax™
Antioxidant Cream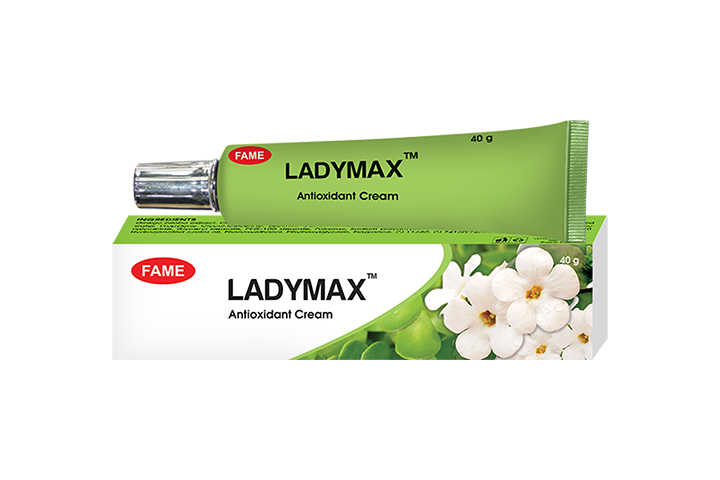 Product Description
Supplement Facts
Directions To Use
LADYMAX™Antioxidant Cream is formulated with Coenzyme Q10, Pycnogenol, Vitamin E, Ginkgo biloba extract and Bacopa monnieri extract which are powerful antioxidants for the skin surface.
♦ Dermatological studies have shown that Coenzyme Q10 produces energy at a cellular level. It helps to prevent against physical and chemical aggressions as well as to detoxify the skin. As a result, it could reduce the signs of premature aging of the skin.
♦ Pycnogenol is a natural plant compound obtained from the bark of the French Maritime Pine Tree. Pycnogenol has many benefits for skin. It reverses the oxidative damage caused by ultraviolet radiation from the sun. It also supports the production of collagen and elastin, two substances essential to build elasticity and strength in skin.
♦ Vitamin E is the nutrient most cited for anti-sunburn activity. It helps in protecting the skin from the oxidative effects of environmental pollutions. It improves skin texture and elasticity of the skin tissue.
♦ Ginkgo biloba extract is well-known for its strengthening and revitalising properties. It enhances the action of a superoxide dismutase that destroy the harmful free radicals. It also helps to promote good blood circulation to the surface of the skin.
♦ Bacopa monnieri extract reduces irritation and inflammation of skin. It protects skin from free radicals and attack from oxidizing agents.
Ingredients:
Co-enzyme Q 10, Pycnogenol, Vitamin E, Ginkgo biloba extract, Bacopa monnieri extract, Alpha-hydroxy acids, Propylene glycol, Capric triglyceride, Isopropyl palmitate, Glyceryl monostearate, Phenoxyethanol, Ethylparaben, Butylparaben, Methylparaben, Propylparaben, Isobutylparaben, Carbomer, Deionised water,
Triethanolamine, Fragrance.
Summary of action
♦ Promote blood circulation to the surface of skin
♦ Improve texture and elasticity of skin tissue
♦ Reduce the premature signs of aging
♦ Help to detoxify the skin
How to apply:
Antioxidant Cream is suitable for all skin types as a moisturizer under make-up. It can be used day and night. In some instances, it should be treated in combination with Completec®, Chlorella and RoyalJelly oral therapy.
Caution:
Stop application if any allergy occurs.